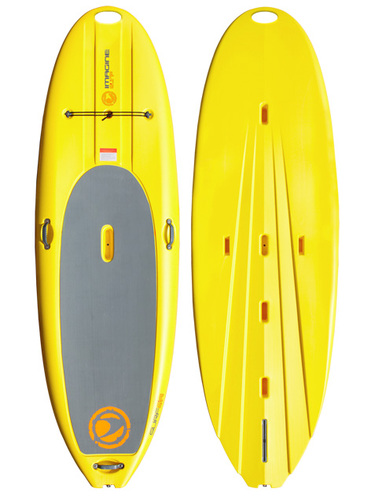 The Imagine Surf Surfer Stand Up Paddleboard is the ultimate board for anyone just getting into stand up paddling. Wide, stable and easy, it will get you out there and onto the waves right now. As good as it is at the beach, the Imagine Surf Surfer Stand Up Paddleboard is great to cruise pristine lakes, and explore backwater bays and inlets. From yoga enthusiasts, to kids at play, or anyone simply wanting to tan out on the water, the Surfer brings it all.
• Wide and stable board perfect for anyone to get on the water
• Generous deck pad with plenty of padding for increased comfort and safety
• Molded in center handle for easy carrying
• Front bungee can be used to secure PFD or small dry bag to the front of the board
• Open handles allow locking cables to pass through so that the board can be secured

Polyethelene Construction makes it durable and stable. It comes in Lime, Orange, and Yellow. Made in the USA.
Length: 9' 9" / 2.97 m
Width: 34" / 86.36 cm
Weight: 51 lbs / 23.13 kgs
Capacity: 310 lbs / 136 kgs
Volume: 63.7 gal / 241 L
Hull Type: Planing