Inuit single person kayak by Native Watercraft & Liquid Logic in 12.5, 13.5, & 14.5.

AN IDEAL BOAT TO INTRODUCE ANYONE TO KAYAK TOURING.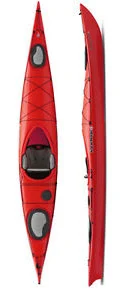 Fast, outfitted with ample comfort and storage, and shaped with streamlined lines, the Liquid Logic Inuit Kayak treats you to a touring experience like none other. As the shortest of the Inuit Series, the Kayak offers turn-on-a-dime maneuverability without sacrificing vital storage space for your camping kit. Liquid Logic's engineers cleverly designed the Tru-Track II Hull to track straight as an arrow and paddle so efficiently you'll wonder how you traveled so far, so fast.
Tru Track hull design offers paddlers of all levels enhanced stability, near-effortless tracking, and easier turning with its layered construction technique (or hard-chine) and slightly wider stern
The 5 Star Outfitting seat system cradles your lower body with extra-soft cushioning and breathable 3D mesh material over the adjustable seat back, hip pads, and thigh pads (which can be fitted with additional padding)
Easy Foot system utilizes an easy-to-reach adjustment rod to quickly move the oversized foot pads along rails for ideal foot placement
Large stern hatch with bulkhead is ideal for bigger, heavier items, and stern hatch accommodates smaller items as well as provides balance when the boat is packed full of gear on long tours
Deck rigging (bungees) has reflective safety line and paddle holders, and it accommodates maps or a life jacket
Bow and stern carry handles are connected to the deck rigging, which secures the handles to eliminate chattering during transport and when paddling