You don't want to miss the views of Hiawatha National Forest, The Mackinac Bridge, Mackinac Island, The Grand Hotel, the Straits of Mackinac, and Bois Blanc from the top platform of the lighthouse!
~UPDATE~ - In 2014, Round Island Lighthouse turns 119, and the 8th Annual "Round Island Lighthouse Open House" is scheduled for July 12, 2014, from 10AM to 4PM EST.
In 2013, we took over a dozen groups, and the lighthouse hosted 200+ visitors. GTKT will be leading tours all day. Kayakers should be comfortable paddling in deeper water with potentially larger waves.
Schedule your preferred time in advance, in 2013 we were booked solid all day!
Thanks to the Round Island Lighthouse Preservation Society for another great event!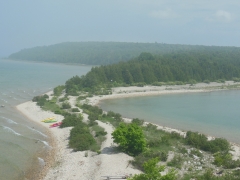 The sole building on Round Island is the vintage lighthouse, Round Island Light. The shipping channel between Mackinac Island and Round Island, lighted by Round Island Light, is called Round Island Channel.
On October 20th, 1972, a voracious storm toppled part of the southwestern corner of the lighthouse. Local preservationists banded together to donate time, resources, work, and money to save the lighthouse from certain doom.
The lighthouse has been listed in the National Register of Historical Places since August 21st, 1974, and it had its formal dedication into the National Register of Historical Places on July 3rd, 1978. It's quaint disposition and beautiful natural surroundings make it a popular subject of photographs in publications such as "Official Pure Michigan Travel Guide".
In 2009, the effort of those that love the lighthouse crystalized in the incorporation of a new non-profit organization, Round Island Lighthouse Preservation Society, formed "to help aid the preservation and restoration efforts at historic Round Island Lighthouse". They also assist with the Annual Open House at the Lighthouse.
Christopher Reeve and Jane Seymour can be seen sitting near the lighthouse in the 1980 movie Somewhere in Time which was filmed primarily on Mackinac Island. The lighthouse is off-limits to anyone who may visit the island. While it is rare for Round Island to see any visitors, there is a small harbor on the north shore that attracts occasional inhabitants of Mackinac Island who sail to the harbor's sandy beach for a secluded, quiet visit. (The beaches of Mackinac Island are generally rocky.)
In 2014, it is featured on the front cover of the "Official Pure Michigan Travel Guide" along with Great Turtle Kayak Tours guide, Eric Obscherning.